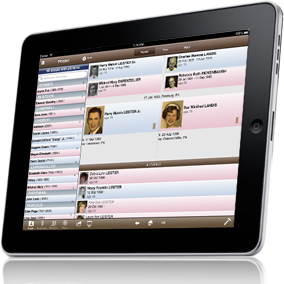 Reunion for iPad
version 2

Reunion for iPad is designed to complement Reunion for Macintosh and lets you take your family with you. View, navigate, search, and edit your information on the go. You'll always be ready to add people, document new information, add pictures, and make corrections to your data. Then bring the changes back to your family file on the Macintosh.
Videos
To use Reunion on the iPad, you'll need to be using Reunion for Macintosh version 10 or Reunion for Macintosh version 9.0c.
Not a licensed user of Reunion for Macintosh? You can run Reunion 10 in the demo mode to put a small family file (up to 50 people) or the Sample Family file on your iPad. Click here to get the demo version of Reunion 10.
Apple, the Apple logo, iPad, iTunes, the iTunes logo, and Mac are trademarks of Apple Inc., registered in the U.S. and other countries. iPad and Multi-Touch are trademarks of Apple Inc. Other product and company names mentioned herein may be trademarks of their respective companies.