Answers
Installing a Reunion 9 Maintenance Update
These instructions are for downloading and installing Reunion. We suggest you bookmark this page and refer to it while downloading and installing the update.
Step 1: If Reunion is running, quit Reunion by choosing Reunion -> Quit Reunion.
Step 2: Click the download link.
Step 3: Confirm that it's OK to download the file...(this window may not appear, depending on which browser you are using)
Step 4: The "Installing Reunion 9" window will appear. (If this window does not appear, then double-click the icon on the Desktop called "Installing Reunion 9.") This window tells you exactly what to do: right inside the window, drag the Reunion 9 icon and drop it on the Applications icon. This copies the new Reunion 9 application file into your Applications folder. Don't drag anything anywhere else.
Step 5: You'll be asked if you want to replace the existing file, and you do. So click Replace. (If you previously moved or renamed your Reunion 9 application file — which we do not recommend — be sure to replace the old application file. To make installation easier in the future, keep the Reunion 9 application file inside the Applications folder and do not rename it.)

Note: If a warning says that you do not have sufficient privileges, click here for a solution.
Step 6: Close the Installing Reunion 9 window (shown in step 4, above).
Step 7: On your Desktop, you'll see a Installing Reunion 9 icon. Drag it to the Trash in the Dock.

Step 8:In your Downloads window, you'll see a Installing Reunion 9 icon. To remove this file, click on it one time (to select it) and then press the Delete key on your keyboard.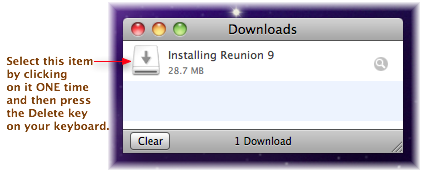 If you've followed these instructions, you'll have one Reunion 9 icon inside your Applications folder...
Step 9: Cleaning Up Problems
There should only be one Reunion 9 icon inside your Applications folder. If you see any other file (such as a file named Reunion 9.0b or Reunion 9.09) in there, drag it to the Trash.
There should not be a Reunion 9 icon on your desktop. If there is, drag it to the trash.
There should not be a Installing Reunion 9 or Reunion_90c.dmg icon on your desktop or anywhere else. If you see one, drag it to the trash.
Step 10: Confirming you have the update
When you run Reunion, and choose Reunion -> About Reunion, it should say "Reunion for Macintosh 9.0c"